Poetry Soundscape: Orkney November 2021
Listen to Nalini's poem, 'Warbeth Walk', inspired by her favourite walk, along Orkney Mainland's west coast (as featured on BBC Radio Orkney, November 2021.)
Nalini on the Janice Forsyth Show, August 2015
Nalini appeared on BBC Radio Scotland's Janice Forsyth Show, to talk about The Raven's Song. You can hear the interview here.
The Raven's Song
The Raven's Song is a collection of poetry and art by Nalini and artist Catherine Hiley.
Drawing on folklore from Orkney, Shetland and Canada , The Raven's Song charts the Trickster's wicked and knowing ways through landscapes of memory, revenge, punishment and redemption.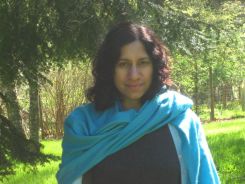 Nalini Paul is a writer based in Glasgow, Scotland.
Nalini was born in India, grew up in Vancouver, and has been living in Scotland for most of her adult life. As a keen walker and lover of the outdoors, her writing often touches on themes of migration, memory and landscapes. Nalini has collaborated with artists, musicians and dancers and has written for stage and film.
Her first poetry collection, Skirlags (Red Squirrel Press) was shortlisted for the Callum Macdonald Award in 2010. She was George Mackay Brown Writing Fellow in Orkney from 2009 until 2010. A limited-edition artist book of her poem about the Norse explorer, Hrafn Floki, was purchased by the National Gallery of Modern Art for their Special Books collection.
Nalini lectures at The Glasgow School of Art (Fine Art Critical Studies). Her research interests include memory, landscapes, language and transformation.
Contact Nalini via GMail: writeherewritenowworkshops@gmail.com